2020. jul. 22.

The CBA-Veszprém Summer Camp 2020 has been finished. During these weeks, we talked with Bence Gaál, a player from Budapest who also attended to our camp.

- Why did you decide to join our camp?
- It's a funny story. My girlfriend also plays basketball. We thought that none of us had to join the camp of the national team and we could come to Veszprém together. Well, she had to, and I am here now.

- What do you know about Canarias Basketball Academy?
- That's my first time to get to know this academy. I know a lot about Veszprém, but not about the CBA-Veszprém.
- How do you like the camp so far?
- I really like it. The coaches are really good guys, but they still act like coaches, and not like our friends, which I think is an important part.

- What is your main goal in the camp?
- To learn everything what is possible to do so. I write notes after every training so I can use the knowledge I get here later. Of course, I also want to visit Veszprém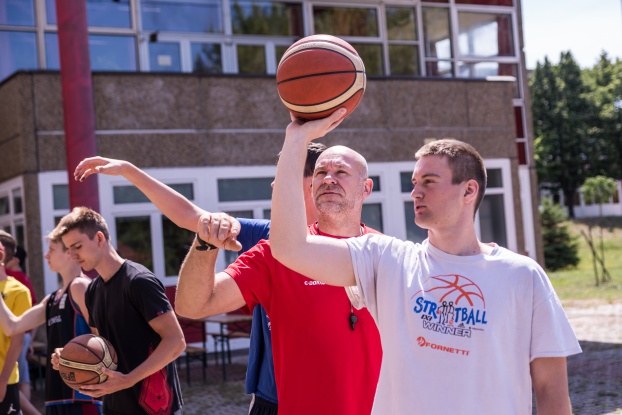 - In which part of your gameplay do you want to improve the most?
- Since now, I was playing in the position 4-5, but I want to learn how to be a good 3 player. I also want to improve my dribbling.

- When and why did you start to play basketball?
- At the beginning I swam. My brother played basketball and I wanted to spend a more time with him, so I started to visit the trainings. It was just a hobby until I was eleven, then I started to take it more seriously. Everyone told me I would not play a single minute. Last season I played forty minutes a match.

- Do you have a role model?
- I would say Lebron James.

- What is your goal in the close and the distant future? What is your biggest dream?
- I have to improve a lot on my dribbling and I have to fix my shooting. I want to find a good place to finish my studies. I just want to be a smart and useful player, that's all.

- Thank you for the interview!
- Thank you!